Dave Boyer
Washington Times
The Republican National Committee's communications department poked a little Easter fun at President Obama Saturday.
The RNC emailed reporters an official White House photograph of Mr. Obama whispering into the Easter Bunny's ear during the 2009 Easter Egg Roll on the South Lawn. RNC Communications Director Sean Spicer suggested the following caption: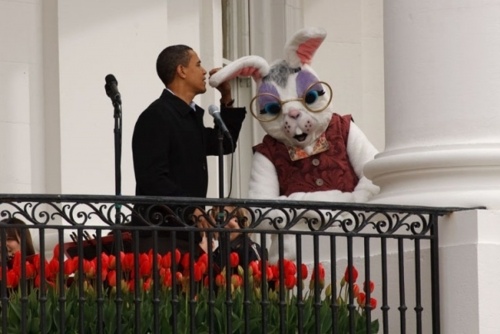 Mr. Obama: "After Easter, I will have more flexibility."
Easter Bunny: "I understand. I will transmit this information to Santa."
It's a reference to Mr. Obama's recent "hot mic" moment with Russian President Dmitry Medvedev on the subject of missile defense.
The photo actually depicts Mr. Obama trying to use "rabbit ears" as a microphone while technicians worked to fix the real microphones on stage.
Read more: http://www.washingtontimes.com/blog/inside-politics/2012/apr/7/bunny-funny-rnc-teases-obama-easter-photo/